This Is How Much You'll Spend on Holiday Shopping (and What You'll Spend it On)
Apparently, we're all big spenders when it comes to the season of giving.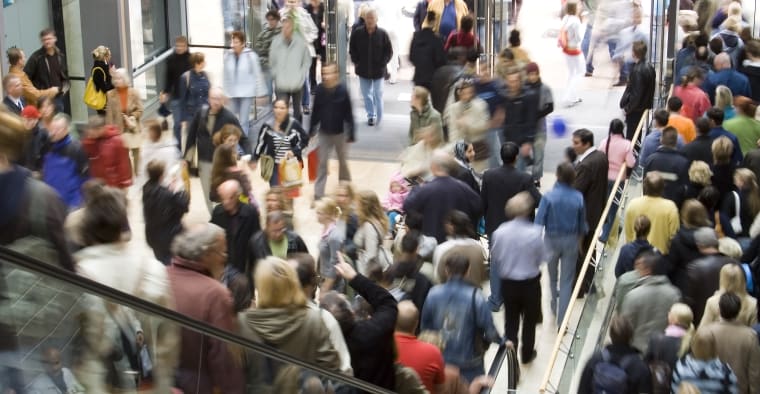 On the last Thursday of every November, millions of Americans shake off their turkey-and-yam-induced comas and line up in the cold to get their share of holiday shopping deals.
This time-honored tradition is called Thanksgiving-Black Friday-Cyber Monday weekend, or something akin to the turducken—remember that? While the chicken stuffed inside a duck stuffed inside a turkey peaked around the same time as Black Friday holiday shopping—circa 2011—the love affair with what many called "Frankenbird" has (thankfully) faded away. But Black Friday continues to mark the beginning of the busiest shopping month of the year.
Last year, more than 174 million Americans shopped in stores and online from Thanksgiving Day through Cyber Monday, according to the National Retail Federation (NRF). On average, we spent about $335 over the long weekend.
How much holiday shopping will we do this season?
The NRF predicts Americans will spend more than $717.5 billion this holiday season, about 4% more than last year.
This breaks down to an average of $1,007 per shopper, which includes Black Friday and Cyber Monday spending.
So what exactly are we buying for the holidays? According to the NRF, about 63% of it will be spent on gifts, with the bulk of these presents going to family. But perhaps the biggest surprise is how much we spend on candy and food, decorations, flowers, greeting cards and personal spending (because why not treat yourself when there are so many holiday deals?).
Here's what people will buy this holiday shopping season.
What's on your family's wish list?
While it makes perfect sense that most of our holiday shopping is spent on presents for family and friends, you may be surprised to discover that most of the recipients on your list would prefer convenience over whatever gift you think they want.
The best present you can give is a gift card, according to the NRF. For both women (62%) and men (52%) the convenience of gift cards beat out all other presents. The second most popular gift: clothing and clothing accessories (55% for women, 51% for men), followed by books and other media.
Should you do your holiday shopping in-stores or online?
Some retailers, such as Amazon and Walmart, are already offering online sales. But the bulk of Black Friday deals begin the day before Thanksgiving (Nov. 21), or on Thanksgiving Day itself.
That said, Black Friday is still by far the busiest holiday shopping day of the season. But if you go to the mall this Nov. 23, you may notice that you have a little more elbow room than usual. That's because shoppers are increasingly opting for online deals over the scrum of in-store crowds. Last year, online sales increased by 18%, while in-store foot traffic decreased by as much as 4%, according to analysis by RetailNext Inc. A majority of shoppers will still visit a physical store over Black Friday weekend—they'll just be shopping on their phones at the same time. Be careful, though. Shoppers who hunt for deals both in-store and online actually spend an average of $82 more than online-only shoppers and $49 more than those who stick to in-store deals.
Now that you know gift cards are the way to your family's heart, you could save yourself the trip to the mall and give the gift of convenience to your gift recipients and yourself.