How to Become a Physician Assistant
Contents
After graduating from a four-year university, physicians attend medical school for four years; are in residency for three to seven years; and, as an option, spend one to three years in a fellowship. That is seven years of training at the minimum, 14 at the maximum.
Here is another number: 26. That is the average number of months that it takes PA (physician assistant) students to finish their program. Less time (and money) spent on education is one reason many medical professionals opt for the faster (and cheaper) path to becoming a PA. Before we ask some professionals "why" they chose their field — it's the question that they're asked most — let's focus on the "how."
Degree Program Options
Aspiring PAs aren't hurting for options. As of September 2015, there were 222 programs that were members of the Physician Assistant Education Association (PAEA), which hosts an annual education forum each fall or winter. Different PA programs require a different number of hours of study and clinical work and offer different types of degrees. By 2020, all PA programs must offer at least a master's degree-level program. Right now, however, there are different types of PA educations:
Pre-professional (or undergraduate): Most often majoring in life science, aspiring PAs earn their bachelor's degree with two to four years of coursework grounded in science, such chemistry, physiology, anatomy, microbiology and biology. These students must also find time between classes to get real-world healthcare experience, a prerequisite for many PA programs.
Professional: Among other things, PA programs look at applicants' undergraduate GPAs (overall and for core science courses, specifically), plus GRE and MCAT scores. Once accepted, PA students sometimes take classes right alongside medical school students, earning their professional degree within an average of 26 months. The first year is spent on didactic work, including classroom and laboratory instruction in pathology, human anatomy, clinical medicine, pharmacology, physical diagnosis and medical ethics. The second year is more clinical, learning about various specialties on a month-to-month basis, with hundreds of hours of supervised clinical training in family medicine, internal medicine, emergency medicine, pediatrics and other areas; this supervised training can sometimes be with a doctor who is looking to train a future employee.
Professional Postgraduate: Some but certainly not all PAs return to a school to belonging to the Association of Postgraduate Physician Assistant Programs (APPAP), which gives them 12 months of work in a physician speciality, such as surgery or dermatology.
PAs' Education Levels in the U.S.
Best Schools for PAs
The best school for someone else may not be the best school for you. Here is what to consider during your research to ensure a good match:
program structure and curriculum
types of clinical education and training opportunities
faculty composition and tenure, student demographics
facilities, campus setting, geographic location
size of the university, size of the class
licensure pass rate, employment rates
degrees awarded, program length
admission requirements
cost and financial aid opportunities
extracurricular activities.
There is no official ranking system of PA programs, but U.S. News & World Report slotted 141 schools in 2015, using a survey from peer institutions to grade each on a 1-to-5, marginal-to-outstanding scale. Here are the top three:
| Rank | School | Note |
| --- | --- | --- |
| 1. | Duke University | It makes sense that the North Carolina school's program ranks first. After all, it had the first program and graduated the first professionals in the 1960s. These days, it remains the top option for aspiring PAs, and for good reason: As of Feb. 2015, 95% of its 2014 graduates were already employed in the capacity. |
| 2. | University of Iowa | The second-ranked school boasts a program that "is unlike any other PA program in the country." It's certainly one of the more exclusive: Iowa accepts one class of 25 students each August. The first installment of the 28-month program sees aspiring PAs studying right alongside their medical student peers. |
| 3. | Emory University | Checking in at No. 3, the Atlanta-based school offers its students a dual master's degree option, the second certificate being in public health. Emory also has the unique benefit of being next-door neighbors with the Centers for Disease Control and Prevention. |
U.S. News & World Report also rated physician assistant as the No. 7 best health-care job, the No. 10 best job; and the No. 14 best paying job.
Applying to a PA Program
Since 2001, aspiring PAs have been able to apply to multiple programs simultaneously using the Central Application Service for Physician Assistants (CASPA). During the 2015-2016 application cycle, which runs annually from April to March, 191 schools participated. Applicants must still be aware of each school's deadlines and requirements. Application materials, which include references, transcripts, a personal essay and test scores, take four weeks to be processed. Most schools have a minimum undergraduate GPA requirement.
Top schools tend to require their applicants have 1,000 or more hours of real-world medical experience. An aspiring emergency medicine PA could become an EMT, for example, and a surgery-interested PA can become a scrub technician to familiarize themselves with surgical tools. Working as a medical or emergency room scribe is another way to go and helps future PA students learn the terminology and processes of their future profession.
Paying for Your PA Program
The expenses shouldn't come as a surprise: Tuition, exams, books and supplies, room and board, required professional memberships (AAPA, etc.), travel and lodging during clinical rotations. In addition to financial aid options available at schools as well as the state and federal levels -- or simply taking out a loan -- there are many scholarships sources for PA students. Some resources:
| Scholarship | Information |
| --- | --- |
| Physician Assistant Foundation | Five scholarship types, worth between $1,000 and $2,500, are awarded to dozens of students annually. |
| Association of Physician Assistants in Oncology | A $2,500 scholarship that includes $500 allotted for the AAPA's annual conference. |
| LGBT PA Caucus | A 12-month fellowship and $1,000 stipend draws applicants. |
| Physician Assistants for Latino Health | PALH offers $500 scholarships for students interested in Latino health issues. |
| Physician Assistants in Orthopaedic Surgery | The Susan Lindahl Memorial Scholarship, valuing $2,500, is awarded to two students each year. |
| The Society of Physician Assistants in Otnolaryngology / Head and Neck | Scholarships of varying amounts are available to enrolled PA students interested in ear, nose and throat (ENT) healthcare. |
| Federal Student Aid | The U.S. Department of Education office provides more than $150 billion in federal grants, loans and work-study funds annually to 13-plus million students. |
| University or College Program | Schools and programs offer scholarships and financial aid to their students. |
| Americorps | Participating as a volunteer results in money for a student's education, no matter their major. |
| The Society of Army Physician Assistants | Three annual $1,000 scholarship grants available to SAPA members or their beneficiaries. |
| The AAPA Veterans Caucus | A dozen scholarships, including many memorializing a fallen uniformed veteran, are available. |
| Indian Health Service | Three scholarships -- for preparatory, pre-graduate and health profession students -- are awarded annually. |
Getting Licensed
Each state in the union, plus Washington, D.C., requires PAs to be licensed. While licensing requirements vary by region, there are two national norms: PAs must have graduated from an accredited PA program and passed the Physician Assistant National Certifying Exam (PANCE). PA graduates have six attempts (or six years) to pass the exam; you may take it a maximum of three times in one year, and your score is available online two weeks after your test date. Here are five more things to know about the exam:
To take the exam, submit an application with a $475 payment and schedule your test time.
The five-hour exam includes 300 multiple-choice questions in five blocks of 60 questions. Here are more detailed policies and procedures
Beginning in 2014, PAs started needing to complete 100 hours of continuing education every two years and pass the recertification exam every 10 years.
Employers can verify the status of a PA's certification using this tool.
PAs can announce their new "PA-C" designation using this sample press release.
PAs must also participate in continuing medical education (CME) and keep their certification up to date with the National Commission on Certification of Physician Assistants (NCCPA). Let's look at these requirements on a state-by-state basis:
State Licensing Boards
Poll: Why Did You Become a PA?
Thanks to the AAPA, these nine PAs answered the question they are probably tired of being asked: "Why do you choose to be a PA, not a doctor?"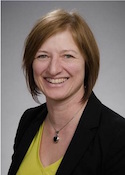 ← Monica Morrison (Yale School of Medicine, 1996) on transitioning from being an EMT: "It seemed like a fluid transition from the health profession I was in. I knew that my background and education made me a perfect fit for this type of challenging role."
Gina Jones (University of Nebraska Medical Center, 2004) on a balanced lifestlye: "As a child, I wanted to be a physician. However, as I got older, I realized that it would be difficult for me to balance being a wife, mother and a physician. Being a PA has allowed me to work part-time as a PA, so that I can spend more time with my family."
Holly West (University of Texas Medical Branch, 2005): "I knew early on that I wanted to go into medicine and even went to a health magnet high school... I loved watching my dad in his role as a doctor, however, I did not have the desire to become a MD and specialize in one particular field. I watched my dad come home late at night, leave early in the morning, take calls, and do rounds on the weekends. While on Christmas break from college, I was at the UTMB field-house and saw someone wearing a PA school t-shirt. I had never heard of a PA, even with all of my medical career exposure and became intrigued."
Jennifer Flaherty (Rosalind Franklin University of Medicine & Science, 2005) on transitioning from being a certified athletic trainer: "I knew by becoming a PA that I could use my prior work experience and go even further with it.  I could have more responsibility and more contact with my patients. Of course, along with that came better pay. The biggest thing for me, though, has been the ability to have a family and still get to spend time with them."
Rachael Jarman (Philadelphia University, 2007): "I wanted to be a part of a profession that allowed me to impact patients' lives. I didn't care about the title, and I liked the idea of team-based medicine. I also liked that I would continually expand my skill set over the years and learn about many different specialties. The profession also is family-friendly, depending on specialty. I have three little girls who are proud of me, which is the best part of my job."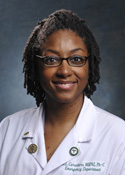 ← Kara L. Caruthers (University of Alabama at Birmingham, 2009) on medical school not working out: "I eventually went back to graduate school with every intention of re-applying to medical school... but struggled with the idea of another seven to eight years of school and residency. I was fortunate to get a job as an anatomy instructor at a medical school, which led to me teaching anatomy in the associated PA program. After talking with the faculty and getting an understanding of the role of a PA, I was hooked."
Ji Hyun Chun (A.T. Still University, 2010) on making lateral moves: "PAs are trained and certified in general medicine of all ages, (but) we can practice in any specialty medicine and we can switch between specialties without doing long fellowship training."
Benjamin Olmedo (Yale School of Medicine, 2012) on his moment of realization: "When I went to college, my goal was to complete my pre-requisites for medical school, serve my four-year commitment in the Army for my ROTC Scholarship, and then attend medical school. However, as I was graduating, 9/11 happened and I quickly found myself deployed with the U.S. Army and working with PAs on Village Medical Outreach Missions, taking care of soldiers. It was on a deployment to Afghanistan when a scorpion stung our medic and the leader on the other side of the radio talking us through everything was the battalion PA. I decided that night I wanted to become a PA."
Brendan Michael Riordan (Hofstra University, 2013): "As a second-generation PA, I had been fascinated by the entire medical profession from a young age. I still wasn't sure how I wanted to participate even in my senior year of college, so while all of my pre-med colleagues were cramming for the MCAT and making their medical school applications look perfect, I jet-setted halfway across the world to Zambia to see what clinical medicine actually looked like. I had plenty of time there to contemplate my own existence, and when I really thought about it, I accepted that I wanted to do it all. I realized that the physician asssistant path would allow me to practice at the bedside in my specialty until I was ready to try something else. If I decided I was ready to try another field or move into an educational or administrative role, that would be a relatively easy move. Plus, I saw plenty of potential opportunities to become a peer leader and an advocate for my own profession."