Gettysburg College Pre-Vet Studies - Melissa Rich
As part of ValuePenguin's Education series, we will be interviewing students across the nation's pre-veterinary and veterinary programs to learn more about their experiences and paths towards becoming certified veterinarians.
We recently caught up with Melissa Rich at Gettysburg College to discuss her experience at Gettysburg and as a pre-vet student. Melissa Rich is President of the Gettysburg College's Pre-Vet Club, and a Biology major with English minor in the class of 2014.
What influenced you to pursue a pre-vet or vet program?
In high school I was able to take a veterinary science class, and that is what really got me interested. I realized that it was something I was good at, and something I enjoyed; when other students in the class practically passed out when our teacher brought in the respiratory system of a pig, I was hands-on dissecting it. The pre-vet club in college is what really inspired me to get experience, and once I started shadowing a vet I realized that beyond the medicine and the animals, I also loved the interactions with the owners.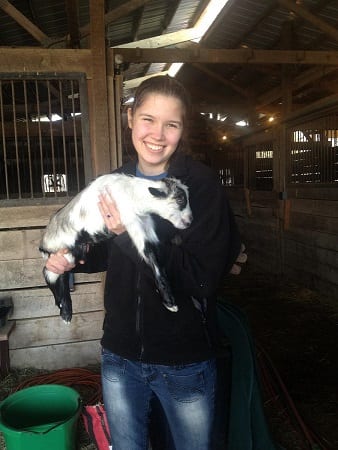 Why should other students consider a focus in Veterinary Medicine?
It is very rewarding and challenging, and you get both the interactions with people and animals. There are also so many places you can go with the field that it is really something that can be tailored to your specific interests.
What has been your experience with Pre-Vet medicine at your college?
At Gettysburg, we have all the courses needed for entrance into the majority of the vet schools. Being a small liberal arts college, we get the small class size and individual attention in classes that you don't get at a lot of the larger universities. Our club is also very active, and we are working to improve every year with the breadth and depth of experiences we are able to offer; so far it has been everything from shadowing on a huge Standardbred breeding farm to helping with kidding on a local dairy goat farm. It has really been beneficial to me since I've also gotten to learn about a variety of specialties and different opportunities within the profession.
Please share and describe your best experience working with animals.
Probably my favorite experience was an internship I did at Carolina Tiger Rescue, where I learned all about the harms of exotic pet ownership, the importance of enrichment for these rescued animals and just the amazing personalities and hardiness that some of them have. Of course, I can't think of a bad experience I have had working with animals!
Have you participated in any volunteer or veterinary internships, and if so:
I volunteer both at the local Adams County SPCA and with a local horse rescue, Forgotten Treasures Equine Rescue. At the SPCA I have been able to help with socializing and training the animals, as well as the events that they have that they need an extra hand with. I have shadowed with small and large animal vets in a variety of situations and practice types, and I have done an externship with Carolina Tiger Rescue.
Please share an interesting or little-known fact you've learned about animals.
When you take blood from a cow, you normally take it from the tail. This means that you have to be pretty careful, since you are in prime splash zone!
What are the latest developments or trends in veterinary medicine?
Holistic medicine and more Eastern ways of thinking seem to be slowly filtering in; it is not uncommon for practices to use laser therapy or acupuncture these days. I think this is a great development, since many of the practices have been proven through clinical trials to be highly effective.
What are your future aspirations and career plans?
I'm hoping to be accepted to vet school in the upcoming year and go on to practice large animal / mixed animal medicine.
Image Source: Wikimedia, Melissa Rich
Comments and Questions