Best Credit Card Processing 2017
We went through dozens of contracts and spoke with a multitude of company representatives to find the best credit card processing available in 2017. For most firms, Dharma Merchant Services will likely be the best fit from both a price and benefit perspective. Below we also accounted for the top processors for different business needs and a number of stores and services.
Best Credit Card Processing for Small Businesses
The following are the best credit card processors as determined by our editors. We broke them out into several categories that can better address the different types of businesses that may be seeking payment solutions.
Best Small Business Credit Card Processing: Dharma Merchant Services
Dharma Merchant Services has some of the most competitive pricing we've seen out of the dozens of processors we reviewed. We highly recommend this company for any small business transacting at least $10,000 per month. While Dharma Merchant Services is cheaper compared to other options, it doesn't skimp on extra features that a small business will find useful. These include a dedicated customer support line, an online management dashboard and the ability to export settlement reports.
| Plan | Monthly Fee | Per-swipe fee | Monthly minimum |
| --- | --- | --- | --- |
| Storefront | $10 | Interchange + 0.25% + $0.10 | None |
| Restaurant | $10 | Interchange + 0.20% + $0.07 | None |
| Virtual | $10 | Interchange + 0.35% + $0.10 | None |
One notable feature absent from Dharma is 24/7 customer support. Instead, their staff is only available during regular business days from 8am to 5pm PT. If 24/7 round-the-clock tech support is something that is important to you, you may want to consider another. However, we typically only see corporate-level processors offer this service. In these cases, the support is also often outsourced.
Dharma offers solutions for virtual processing, storefronts, and restaurants. In all cases, the company is fully transparent when it comes to cost. It uses interchange pricing models, which we consider to be one of the fairest around.
Good for: Large-scale retail stores, nonprofits and restaurants
Bad for: Businesses transacting less than $10,000 per month
Best Low Volume Credit Card Processing: PayPal Here
PayPal Here, though chiefly known for their online payment processing, also provides affordable retail processing for small businesses. It has no monthly fees and little overhead costs, making it a good solution for companies getting less than $10,000 charged per month. PayPal Here comes with a fixed 2.7% that applies to all Visa, Mastercard, Discover and American Express transactions.
| Monthly Fee | Per-swipe fee | Monthly minimum |
| --- | --- | --- |
| None | 2.7% | None |
Naturally, PayPal is also a decent option if your company runs an eCommerce website. The brand is recognized worldwide, so even if you opt for the simplest solution – that is sending customers to PayPal's website – it likely won't be a bad user experience. Note that if you are only after online credit card processing, with no offline component, we recommend using Stripe instead.
Good for: Businesses transacting less than $10,000 per month
Bad for: Companies that only need online credit card processing, and want to build a custom user experience
Best Online Credit Card Processing: Stripe
Stripe offers one of the simplest and quickest ways to get your eCommerce processing credit card payments. It provides a well documented and free-to-use API that allows you to build a custom checkout experience directly on your site. You can also use Stripe to handle in-App purchases and marketplace transaction.
| Monthly Fee | Per-swipe fee | Monthly minimum |
| --- | --- | --- |
| None | 2.9% + $0.30 | None |
While its prices are on par with other major online credit card processors, Stripe distinguishes itself through its tech. The company attracted Venture Capital investors and built up a reputation for being extremely easy to work with. Keep in mind that without developer resources, you may need to combine Stripe with a pre-built eCommerce solutions – something that can increase your monthly costs. If want something simpler that you could launch yourself, without the need for a programmer, we'd suggest considering PayPal instead.
Note that currently Stripe doesn't provide any retail/offline solutions, which can be a drawback for some merchants.
Good for: Web-based credit card processing and in-App purchases
Bad for: Companies that want both online and offline credit card processing handled through one company
Best for Mobile Credit Card Processing: Square
Square is king among mobile credit card processors, due to its simplicity, low per-swipe costs, and elegant readers. Like Stripe, Square allows your company to get up and running relatively quickly. You can get your first reader for free, and subsequent ones will range from $30 to $170.
| Monthly Fee | Per-swipe fee | Monthly minimum |
| --- | --- | --- |
| None | 2.75% | None |
Square works will with most Apple iOS and Android devices. Vendors can easily hook up a magstripe or chip reader to a device using a headphone jack or Apple's Lightning port. Square offers a rich feature set, including software for managing employees and sales. For example, you can set individual employee passcodes that will help you track individual sales numbers. The POS can also track employee check-in and check-out times.
Good for: Those looking for cheap and reliable mobile card readers, and simple fixed swipe fees
Bad for: Large companies processing more than $10/$20k per month
Best for Large Businesses: National Processing
National Processing has shown a lot of commitment to pricing transparency that we rarely see out of processors that work with large companies. Though they originally displayed very few rates, once we spoke with company representatives, National Processing updated their website to show exactly what their clients may end up paying. The per transaction costs appear to be competitive, though you should always obtain multiple quotes from several companies and see who can give you the best deal.
National Processing is currently running an interesting promotion. If you are quoted lower prices, and you do over $10,000 in monthly sales, the company will provide you with a $500 Visa gift card. This alone is enough of a reason to try and see whether they can be a good fit for your company. Note they only offer the $500 if they are able to do a comparison and have a chance to meet or beat the competitor's statements.
Good for: Companies transacting over $49,000 per month
Bad for: Small mom and pop stores
Best Credit Card Processing for Restaurants: Dharma Merchant Services OR Square
Depending on the volume of sales at your restaurant, we recommend using either Square or Dharma Merchant Services – both companies that we already featured in categories above. Dharma is better if your restaurant processes over $10,000 in sales each month, and for smaller volumes we find Square to be more affordable.
| Plan | Monthly Fee | Per-swipe fee | Monthly minimum |
| --- | --- | --- | --- |
| Dharma (Restaurant) | $10 | Interchange + 0.20% + $0.07 | None |
| Square | None | 2.75% | None |
Dharma offers a special rate plan for restaurants with a slightly smaller mark-up than its other solutions. You pay interchange + 0.20% + $0.07 with each sale, compared to the 0.25% + $0.10 fee paid by regular storefronts. Dharma provides Clover Mobile readers for restaurants that can track inventory, allow customers to set tips and have detailed reporting for managers who want to run analysis on their sales.
Square, though more expensive per-swipe, offers significantly cheaper card readers and no monthly fees. These lower overhead costs make it a better solution for smaller restaurants and coffee shops.
Square is good for: Small restaurants and coffee shops
Dharma Merchant Services is good for: Restaurants transacting more than $10,000 per month
Best Credit Card Processing for High-Risk Businesses: Payline Data
Payline Data is an overall great payment processor that specializes in high-risk credit card processing. It may be best for travel agencies, businesses dealing in adult products and gaming, online tech support agents, and companies selling vitamins and supplements. These are the industries that are frequently considered "high risk".
When it comes to high-risk credit card processing, you should be ready to pay significantly more for every transaction. Don't expect the prices posted to Payline's website to apply to your business. Though the company doesn't disclose pricing information for high-risk swipes, like other companies that advertise high-risk services, the company offers competitive pricing for its regular accounts. This, along with the educational information and transparency we found when dealing with Payline Data, make it an easy company to recommend.
Good for: Industries that frequently deal with chargebacks, like travel agencies or gambling sites.
Bad for: eCommerce
Summary of 2017's Best Credit Card Processors
In case you want a quick look at our picks, here are ValuePenguin's best credit card processing companies for 2017.
| Processor | Best For... |
| --- | --- |
| Dharma Merchant Services | High-volume Small Business |
| PayPal | Low-volume Small Business |
| Stripe | Online |
| Square | Mobile Processing |
| Dharma/Square | Restaurants |
| Payline Data | High-Risk Merchants |
| National Processing | Large Businesses |
How Do The Best Credit Card Processors Compare To One Another Based On Cost?
We wanted to give you an idea of the per-transaction cost you can expect from the processors we listed above. We ran a simulation for two different types of transactions that companies may deal with—a low $10 charge and a more expensive $200 charge. These estimates, while not exact, can give you some idea of how these merchants compare to one another. We still encourage you to obtain quotes, as different companies may be able to provide you with special discounts depending on the type of business you run. We also included a couple of other good credit card processors to provide better contrast. Helcim is very similar to Dharma Merchant Services in terms of features, while eMerchantBroker.com is a decent high-risk credit card processor.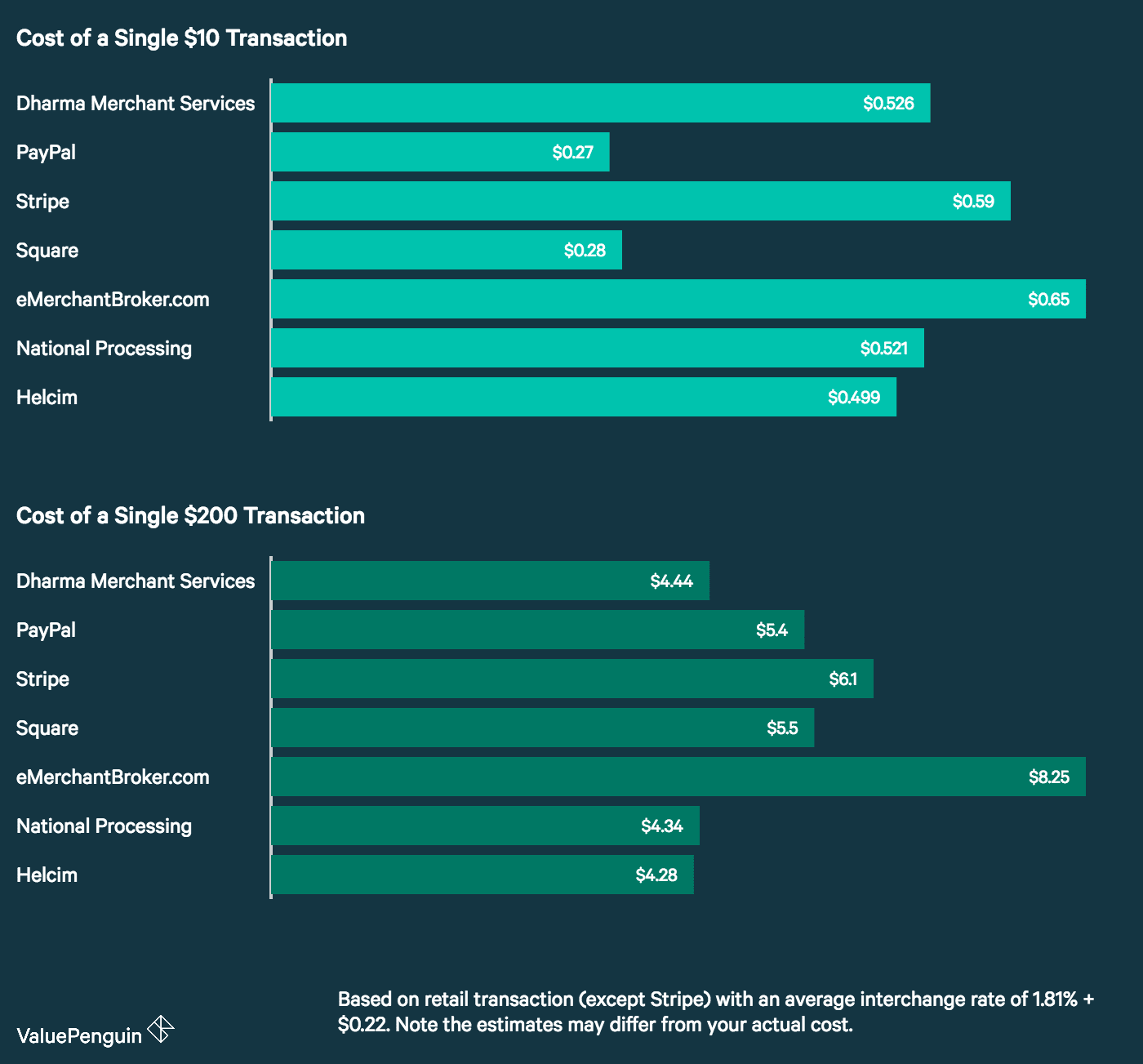 Note: We excluded Payline Data from the calculation, as the company doesn't disclose rates for its high-risk merchant processing. However, we estimate the costs would be significantly higher than the ones listed above in both cases.
How To Find Good Credit Card Processing
It's possible that you won't find any of our above recommendations to be a good fit for your business. Every firm, shop and retailer has their own set of special needs and challenges that may require a more tailored approach. Because of that, we'd like to equip you with the right framework for finding a good credit card processor. Below is a mini-guide on how you should approach the process of evaluating and searching for credit card processors.
Identify Your Payment Processing Needs
The first thing to understand is that there is a myriad of credit card processing options and solutions out there. In order to begin your search, it's often helpful to narrow down the things you require out of a point-of-sale system. Most credit card processing services break down into one of three major categories: mobile, POS/storefront, and virtual (for websites). We talk a little bit about what to expect out of each of these below.
Mobile credit card processing: These solutions will work best for small shops with low volume, or businesses that need credit card processing on-the-go. Mobile credit card processors, like Square, will typically hook up to your phone and are extremely lightweight and portable. While compact, today these processors can deliver a lot of features so you shouldn't feel like you're compromising anything for mobility. With a mobile card processor, you should still expect features like inventory tracking and some level of employee management at the software level.
POS/Storefront: These types of solutions are more traditional and are typically designed for a fast checkout experience. Unlike mobile card processing, you will typically need to pay more for readers. Depending on the features you want out of your POS (like WiFi or Wireless connectivity) it's not uncommon to have to pay upwards of $1,000 for a terminal.
Virtual/Online Credit Card Processing: As the name suggests, these types of credit card processing services are intended to handle online transactions. You will generally have two options when it comes to this. The online processor can provide you with an API so that you can build a custom web experience for your customers. This is an involved process and will require some developer resources. Alternatively, you can hook up most online virtual card processors to popular eCommerce services. While some are free, the ones that are more feature rich will come with a monthly fee.
Note that you should expect to pay slightly more for each online transaction that you would for mobile/POS processing. That's because online transactions are generally viewed as more risky and prone to fraud, and processors bake that into your total cost.
Always Ask For Interchange Plus Pricing
If you search and compare credit card processors on your own, you may come across different ways these companies choose to structure their fees. It used to be that most companies would rely on a tiered approach. They would designate three classes of transactions – Qualified, Mid-Qualified, and Non-Qualified. These would all cost different amounts of money per swipe, based on criteria that wasn't always made available to their clients. This pricing scheme generally fell out of favor because it made it difficult for small business owners to accurately control their costs.
You should always ask credit card processors for their interchange plus pricing instead – this is much more favorable and transparent. Interchange plus works by charging you the interchange fee (something that is imposed by companies like Visa and Mastercard) plus a small mark-up added by the credit card processor. You won't be able to accurately predict the makeup of your customer's interchange fees. These will vary greatly depending on the types of credit cards they use. However, with interchange plus you can at least compare issuers based on the markup they charge.
Collect As Many Quotes As Possible
The cost of processing will vary greatly from business-to-business, and comparison sites like ours won't always be able to accurately forecast this. That is why it's in your best interest to shop for credit card processing like you would for a product like auto insurance. Collect and compare quotes from different providers.
Some credit card processors will be able to give you discounts if you're a non-profit, or if you transact a certain amount of purchases each month.
Understand There Is More To Processing Than Cost
Our last bit of advice about choosing a credit card processor has to do with quality of service. You should always make sure you also understand the features you will get through your processor. If one is willing to offer a detailed reporting interface that you can log into, and another forces you to export details into excel, take note of the difference and choose accordingly. You may discover that saving a few dollars a month is causing extra hours you need to put into tracking or maintenance due to outdated technology.
Customer service may be another major point of differentiation. While a 24/7 line may be good, perhaps you would prefer one that has limited hours but is entire U.S.-based. Make sure you understand what you need out of your processor, and to ask your sales rep about these things.
Methodology
Generally, we approached this list with the understanding that there is no single best credit card processor for all businesses. For the purposes of this list, we tried to come up with a broad list of business categories and needs and then matched them to credit card processors.
We judged processors based, in part, on the following criteria:
Cost

Per-swipe fees
Overhead costs (monthly fees, monthly minimums, PCI fees)

Transparency

How easily accessible is pricing information online
How consistent is the pricing information given by the processing company
How readily are customer service representatives willing to provide information

Availability of various business solutions, including reporting and employee management
Ease of use
How quick/slow a processor is to set-up
How quickly/slowly processors release funds
Whenever information about a processor was not available online, we tried obtaining information from company representatives. For the companies we highlighted above, the information we obtained was consistent across various platforms – online, phone, online chat rooms. However, for some issuers we obtained contradictory information in our search. In those cases, we did our best to arrive at an average based on information that was readily available.
Comments and Questions