Advertiser Disclosure
Advertiser Disclosure: Some of the card offers that appear on this website are from companies which ValuePenguin receives compensation. This compensation may impact how and where products appear on this site (including, for example, the order in which they appear). The site does not review or include all companies or all available products.
Disclaimer: The editorial content on this page is not provided by any of the companies mentioned, and has not been reviewed, approved or otherwise endorsed by any of these entities. Opinions expressed here are author's alone. For a full list of our advertisers, see our disclosure page.
Opinions, analyses, reviews, or recommendations expressed here are the author's alone, and have not been reviewed or endorsed by the issuer. We may be compensated through the issuer's Affiliate Program. For a full list of our advertisers see our disclosure page.
Credit Card Debt Consolidation: What's The Best Option?
Contents
Consumers burdened with credit card debt may be better off consolidating their outstanding balances with a single low-interest loan. Doing so can potentially save hundreds or even thousands of dollars, and can help you pay down your card loans quicker. However, before consolidating one's credit card debt, it's important to understand all the strengths and weaknesses of the different options.
Balance Transfer Credit Cards: Recommended For Balances Less Than $15,000
One of the most popular means of consolidating credit card debt is by using a balance transfer. This approach requires you to open up a new credit card account to which you move your existing credit card balances. The new card should have a lower interest rate, typically offering a 0% interest promotional period. These promotional periods can last anywhere between 9 and 21 months.
The new line of credit you are issued sets the limit for how much of your balance you can transfer to it – typically banks will not issue credit limits larger than $15,000. The actual number will depend on your credit score and income. Due to this limitation, balance transfer cards are ideal for smaller debts, typically below $15,000.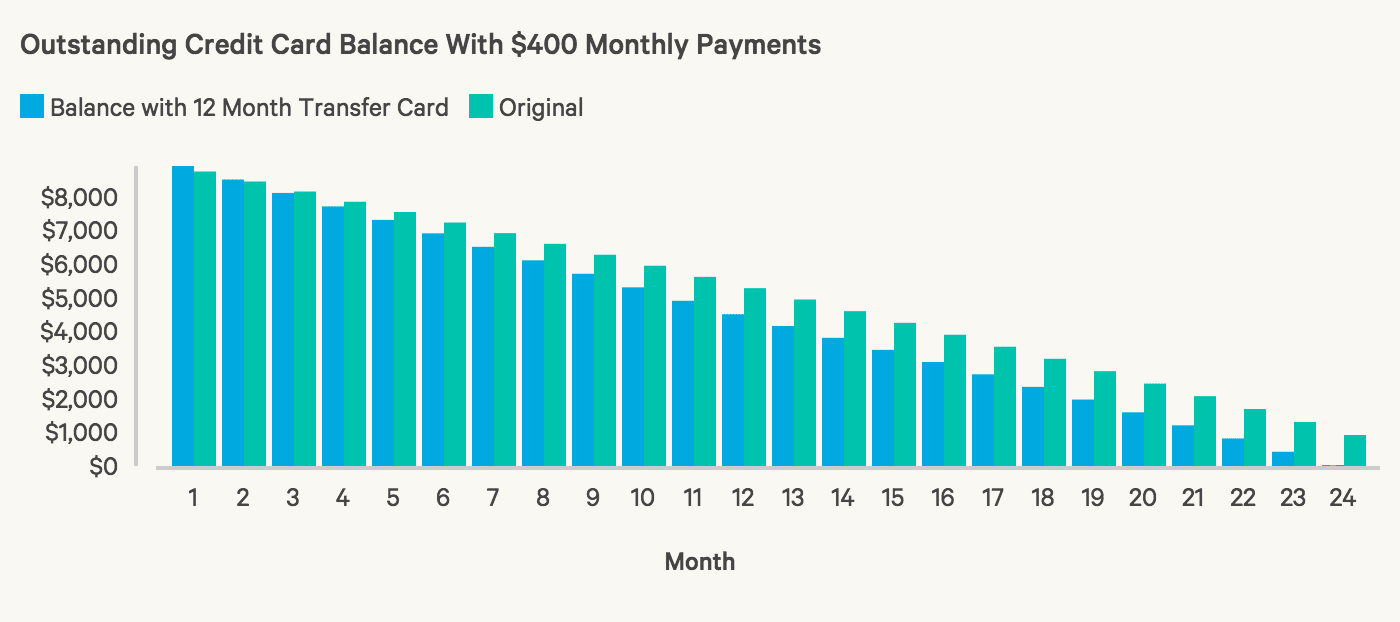 Before applying, you should be aware of what the new card's ongoing APR will be once the promotional zero percent period runs out. If you're still going to be left with a substantial amount of debt afterwards, you don't want to be stuck paying a higher interest rate. You should also know that certain actions, such as missing or being late on a payment, are grounds to end the zero percent period.
Most balance transfer credit cards will impose a fee when moving over a balance from another card. The fee is typically between 3% and 5%, and is applied at the moment of transfer. We find that the average consumer will still come out ahead by deferring their interest for 3+ months, despite the added fee.
There are some risks to your credit score that arise from dealing with balance transfer credit cards. First, by applying for a new line of credit, your FICO score will take a hit due to the inquiry on your account - often referred to as a "hard pull". Furthermore, if after the balance transfer you end up with a credit card account using a big partition of it's total credit limit, your score will also go down. How much of your available credit line you actually use is called "credit utilization", and you generally want to keep it under 30%. For example, if your total credit line is $10,000, you shouldn't be using more than $3,000.
Personal & Peer-to-peer Loans: Recommended For Outstanding Balances Greater Than $15,000
Some financial institutions and private companies can issue individuals personal loans to help deal with outstanding credit card debt. The effectiveness of this method will depend entirely on the terms of your loan offer, and there is far more variation here than in balance transfer credit cards. The major advantage of this method over a balance transfer is that they allow for larger lines of credit – as much as $35,000 in some cases. Also, because these are not revolving loans, one does not have to worry about "credit utilization" affecting their FICO score.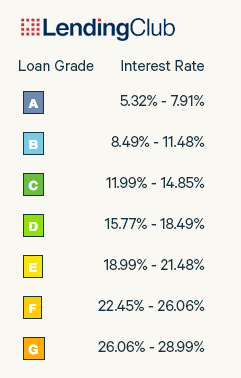 Personal loans are generally given out against an individual's credit score, just like credit cards. That means the terms of your loan will be entirely dependent on your credit history. Peer-to-peer lending platforms have become one of the most popular supplies of debt consolidating personal loans. According to the Consumer Financial Protection Bureau (CFPB), one of the more popular platforms, LendingClub, has facilitated over $13.4 billion loans as of September 2015. These lenders will typically classify your creditworthiness on some sort of scale, and determine your interest rate based on that. You credit score will also often determine the origination fee - which is the premium you pay for being issued the loan (typically between 1% and 5% of the loan amount).
While consumer credit card APR is capped at 29.99%, by law, the same is not true of personal loans. Companies like Prosper and LendingClub offer terms that may end up charging you interest as high as 35%. Make sure to only re-finance towards a lower interest rate.
Another thing to note is that some personal loans may come with a prepayment fee – that is a fee you get charged for paying back the loan ahead of schedule. This can be a financial hassle, if you are locked into a long-term loan, and suddenly find yourself able to pay off the balance in full. While on a credit card loan, you would be able to simply pay off your remaining balance, a personal loan may cost you extra for this financially prudent behavior.
Home Equity Loans: An Option To Avoid
Home equity loans are the third most frequent option that pops-up around credit card debt consolidation discussions, and are generally not recommended. These are secured loans, which are often targeted at individuals with low credit scores. Instead of a loan being offered on the basis of your FICO score, a home equity loan will put up your house as collateral. This produces tremendous risk for the consumer - in the event that they cannot make a payments, the loan issuer may seize the borrower's house, the value of which will frequently be much higher than the loan amount.
Besides being risky, home equity loans can also come with a large amount of fees. These include things like origination fees, annual fees, home appraisal fees, etc. This can seriously skyrocket the cost of these loans, especially when compared to the other two options.
Home equity loans are generally intended for high cost bills, including medical costs or college education. They are generally not recommended for financing credit card debt.
Other Options: A Different Credit Card Debt Repayment Plan
Before resorting to a new loan or line of credit to consolidate debt, try contacting your current credit card issuers to see if you qualify for any hardship programs. If you are faced with extenuating circumstances - such as unemployment, or an illness – some issuers may be willing to enter into a special payment plan with you. On these, your minimum payments or interest rates may be lowered temporarily. At the end of the day, the bank wants to get the money in lent you back. Therefore, they may be willing to cooperate to get this done, even if it means altering their previous terms.
Sources: Consumer Financial Protection Bureau: http://files.consumerfinance.gov/f/201512_cfpb_report-the-consumer-credit-card-market.pdf
Comments and Questions
* See the online credit card application for details about terms and conditions. Reasonable efforts are made to maintain accurate information. However all credit card information is presented without warranty. When you click on the "Apply Now" button, you can review the credit card terms and conditions on the issuer's website.
Info about the following cards: American Express® Gold Card, Delta Reserve® Credit Card from American Express, Platinum Delta SkyMiles® Credit Card, Starwood Preferred Guest® Credit Card from American Express, Hilton Honors Surpass® Credit Card, American Express® Blue Sky, American Express® Green Card, The Amex EveryDay® Preferred Credit Card from American Express, The Plenti® Credit Card from Amex, Blue from American Express®, Platinum Card® from American Express Exclusively for Mercedes-Benz, Bluebird, Centurion® Card from American Express, Hilton Honors American Express Aspire Card, and Starwood Preferred Guest® American Express Luxury Card has been collected independently by ValuePenguin. The issuer did not provide the details, nor is it responsible for their accuracy.
Disclaimer: This content is not provided or commissioned by the credit card issuer. Opinions expressed here are author's alone, not those of the credit card issuer, and have not been reviewed, approved or otherwise endorsed by the credit card issuer. This site may be compensated through the credit card issuer Affiliate Program. 
These responses are not provided or commissioned by the bank advertiser. Responses have not been reviewed, approved or otherwise endorsed by the bank advertiser. It is not the bank advertiser's responsibility to ensure all posts and/or questions are answered.
How We Calculate Rewards: ValuePenguin calculates the value of rewards by estimating the dollar value of any points, miles or bonuses earned using the card less any associated annual fees. These estimates here are ValuePenguin's alone, not those of the card issuer, and have not been reviewed, approved or otherwise endorsed by the credit card issuer.