Advertiser Disclosure
Advertiser Disclosure: Some of the card offers that appear on this website are from companies which ValuePenguin receives compensation. This compensation may impact how and where products appear on this site (including, for example, the order in which they appear). The site does not review or include all companies or all available products.
Disclaimer: The editorial content on this page is not provided by any of the companies mentioned, and has not been reviewed, approved or otherwise endorsed by any of these entities. Opinions expressed here are author's alone. For a full list of our advertisers, see our disclosure page.
Opinions, analyses, reviews, or recommendations expressed here are the author's alone, and have not been reviewed or endorsed by the issuer. We may be compensated through the issuer's Affiliate Program. For a full list of our advertisers see our disclosure page.
2015 Credit Cards Complaints Study
We analyzed credit card complaints submitted by American consumers to identify major trends, both positive and negative, within the credit card industry. The data we examined was released by the Consumer Financial Protection Bureau (CFPB), and contained close to 14,000 individual complaints that were lodged in 2014. With this data, we were able to measure overall consumer satisfaction, as well as see the major pressure points which left individuals most likely to complain.
Study Highlights
Part 1: Is complaining to the CFPB worthwhile?
56% of complaints regarding late fees resulted in a refund. The individuals who received that monetary relief, are likely to have found the process satisfactory.
For all other issues, the most common company response involved issuing an explanation. Depending on the type of complaint you submit, end-results had different probabilities of success.
Part 2: Which credit card companies had the most satisfied customers based on complaints?
For a second year in a row, American Express and Chase had the highest number of satisfied customers. Amex was the clear leader, with a 1.6 complaint metric. Chase scored only half as well.
Capital One and Discover had the lowest number of customers dispute the handling of a complaint - 15% and 20% respectively.
Citibank was the most generous when it came to resolving disputes. The bank chose to issue a refund or credit to 34% of its customers who submitted a complaint. Capital One was the second most likely, with 25% of complainants receiving monetary relief.
Part 3: What do consumers complain about?
Nearly 1 in 5 of all the complaints submitted were related to billing issues – these include misappropriated payments, etc.
Bank of America was the only financial institution for whom "Account Closing" complaints outnumbered those about fraud.
Part 4: Who complains the most about credit cards?
District of Columbia residents filed the most complaints last year - over 15 per 100,000 residents. Delaware, New Jersey and Rhode Island were the three states that ranked with the highest per capita rates of complaints submitted.
Wyoming, North Dakota and West Virginia had the fewest complaints against credit issuers. In these states, less than 2 complaints were filed per 100,000 residents.
Is Complaining to the CFPB Worthwhile?
Perhaps the most important question to ask when examining these numbers is: is filing a complaint with the CFPB worthwhile? Statistics suggest that the answer depends on the outcome people are hoping to achieve. If consumers are hoping for monetary relief, then the odds don't look good, unless they are filing a complaint regarding fees. If they are looking for answers to a concern, then going through with the process is likely to lead to some satisfaction.
Generally speaking, most consumers who filed complaints with the CFPB returned empty handed. All six major banks offered nothing more than an explanation in over half the cases which were brought to them.
Some issues, such as ones regarding late fees, had a higher success rate than others. If a consumer lodged a complaint with the CFPB regarding the late fees on their credit card bill, 56% of the time they brought up their grievance with the CFPB they were issued a refund. Complaints regarding bankruptcy, credit determination and application processing delays were predominantly resolved via an explanation.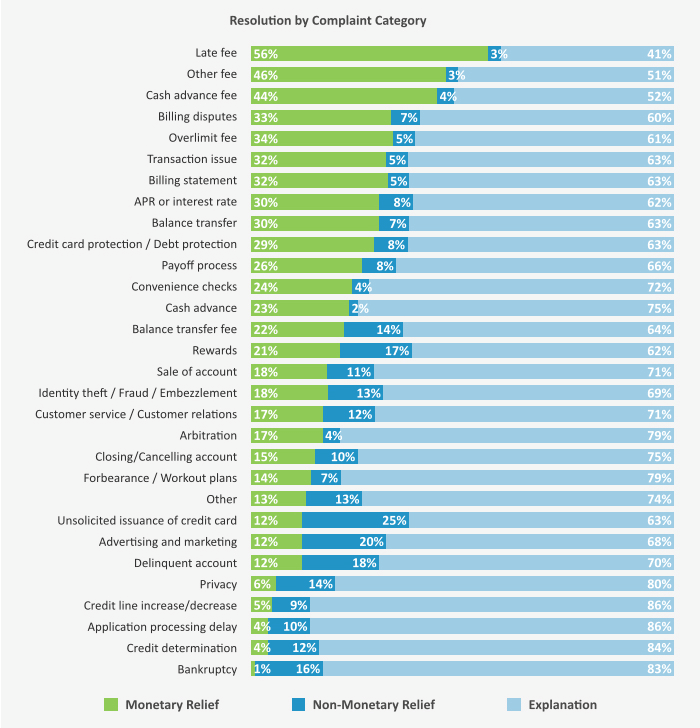 Which Companies Have the Most Satisfied Customers?
One of the first things we looked at was the level of complaints customers had with the six largest credit card issuers in the country. In order to create a fair comparison, we looked the ratio of complaints to the total number of sales made using each issuer's credit cards. Thus we balanced for the disproportionate amounts of customers each company has.
American Express is the best company, according to our metrics. For every billion dollars charged by Amex customers, only 1.6 complaints were filed. This is nearly 6x less than the amount of complaints lodged against other large banks such as Citibank and Capital One – these averaged over 9 complaints per billion dollars charged. On average, there were just 4.61 complaints filed, which is less than in years prior. The graph below shows each company's score.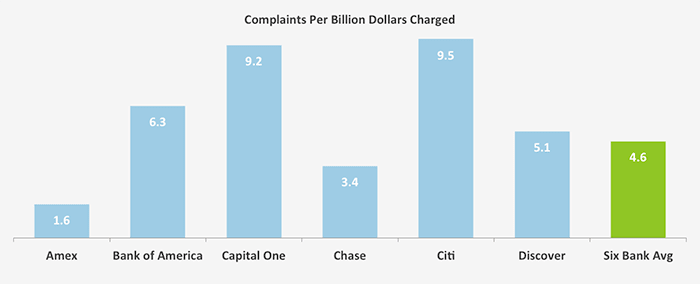 Note that even though Discover had the least complaints filed in total, it still had a relatively high complaint metric – this is because their total number of transactions was significantly lower than that of other issuers. The table below shows the inputs for the above scores.
| | | | |
| --- | --- | --- | --- |
| Company |  2014 US Sales Volume ($B) | Complaints | Complaint Metric |
| Amex |                   684.1 | 1,095 |                                                    1.60 |
| Capital One |                   208.7 | 1,918 |                                                    9.19 |
| JPMorgan Chase |                   465.6 | 1,602 |                                                    3.44 |
| Bank of America |                   212.1 | 1,335 |                                                    6.29 |
| Citibank |                   252.0 | 2,391 |                                                    9.49 |
| Discover |                   115.5 | 587 |                                                    5.08 |
What are the Biggest Complaints People Have about Their Card Company?
Across the board, billing related issues were the #1 grievance consumers had with their credit card issuers. These disputes include claims such as payments not being properly applied to a bill, etc. In addition to this, credit card protection was also a substantial issue for a majority of issuers –with many of users reporting being victims of identity theft and credit card fraud. The only exception was Bank of America for whom the second most complained about issue was related to account closing.
Some of the most interesting findings in this area include:
Bank of America customers had the most difficulties closing and cancelling their credit card accounts. 1 in 10 complaints filed against the bank listed this as the reason.
American Express has the most users complaining about credit card rewards. This includes disputes about bonuses and perks associated with their cards.
Capital One customers, on the other hand, had close to no reported problems with their rewards program. Less than 1% of their users filed complaints regarding it.
Citi lead the way in billing disputes – in both amount of complaints and complaints per $1 billion dollars charged.
Top Three Complaints by Credit Card Company
| | | | | | |
| --- | --- | --- | --- | --- | --- |
| American Express | Capital One | Chase | Bank of America | Citi | Discover |
| Billing disputes | Billing disputes | Billing disputes | Billing disputes | Billing disputes | Billing disputes |
| Identity theft / Fraud / Embezzlement | Identity theft / Fraud / Embezzlement | Identity theft / Fraud / Embezzlement | Closing/Cancelling account | Identity theft / Fraud / Embezzlement | Identity theft / Fraud / Embezzlement |
| Advertising and marketing | Closing/Cancelling account | APR or interest rate | Identity theft / Fraud / Embezzlement | Closing/Cancelling account | APR or interest rate |
How Were Complaints Handled By Companies?
Once a complaint was submitted to the CFPB, it would then be forwarded to the credit card company it was brought up against. Half of the submissions reached the credit issuers within 1 day of being submitted. Typically, complaints were resolved via monetary relief (a refund of credit issued to the account), non-monetary relief (adjusting an interest rate, etc.), or a simple written or verbal explanation. 
All consumers had the option of disputing a decision, if they were unhappy with how the bank handled their complaint. Out of all the reports collected, 20% of consumers filed a dispute. Our analysis showed that if the resolution was an explanation, there was a 1 in 4 likelihood of the consumer disputing the decision.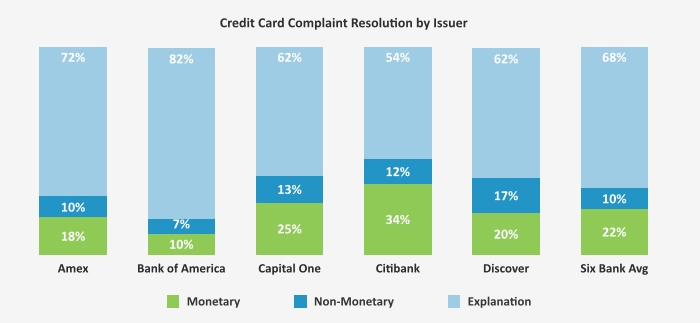 Citibank was the most likely to settle disputes with some form of monetary relief – 34.3% of all disputes with the issuer were settled in this way. This could be a potential explanation for why Citibank had one of the lowest amounts of disputed resolutions in the industry (21.5%).
Bank of America ranked on the other side of the spectrum, preferring to settle disputes with explanations more so than any other issuer. The company responded to 82% of all complaints with an explanation, and 7% with non-monetary relief. Just 1 in 10 BofA customers, in 2014, obtained a refund after submitting a complaint.
The median amount of money refunded to credit card accounts in 2014 was $121. This is down by $4 from 2013. In total, 3,140 people received monetary compensation from their issuing banks.
According to the CFPB, 3% of total complaints (encompassing more than just the six biggest banks above) did not receive a timely response. These reports would, usually, see greater than average report time between the CFPB and the financial institution – some took close to a month to be delivered to the appropriate channels, from the time of submission.
Where Were Consumers Complaining about the Most?
Some parts of the United States saw more complaints than others. Washington DC, for example, saw a significantly higher amount of credit card complaints be filed over all other regions of the United States. Approximately 100 complaints came out of DC, averaging out to 15 submissions per capita. The next closest was Delaware, which had just under 10 complaints per capita.
Complaints per Capita by State
Data is presented as number of complaints per 100,000 residents in state:
There was very weak correlation between a state population and the per capita number of complaints, meaning the scores above are not likely to have been biased by a region's population. 
What Changed from Previous Years?
Significantly fewer consumers decided to file claims in 2014. The total number of credit card complaints decreased, from last year, by 6%. 
Upon closer inspection of the data, however, things did not look completely rosy in this year over year comparison. While less people were filing complaints, those who were submitting them were less likely to receive monetary compensation. Late fees, which are the top issue complained about, were 8 percentage points more likely to receive an explanation. Customers in 3 out of the 6 largest banks – American Express, Bank of America and Citibank – became more likely to dispute claims (meaning they found issue with the bank's ruling).

Other interesting trends we've seen year-to-year include:
The average number of complaints, per $1 billion dollars charged, is 4.61 – down 0.60 from last year. 
Capital One improved the most among the big banks. Complaints were down by 23% compared to the prior year.
American Express changed the least, year-to year, just barely improving on their performance in 2013.
On average, banks became 2 percentage points less likely to settle complaints with monetary compensation. Discover and Capital One had the biggest drop in monetary resolutions to claims – 8 and 6 percentage points respectively.
The number of complaints being filed out of Wyoming nearly halved since last year.
Comments and Questions
* See the online credit card application for details about terms and conditions. Reasonable efforts are made to maintain accurate information. However all credit card information is presented without warranty. When you click on the "Apply Now" button, you can review the credit card terms and conditions on the issuer's website.
Info about the following cards: American Express® Gold Card, Delta Reserve® Credit Card from American Express, Platinum Delta SkyMiles® Credit Card, Starwood Preferred Guest® Credit Card from American Express, Hilton Honors Surpass® Credit Card, American Express® Blue Sky, American Express® Green Card, The Amex EveryDay® Preferred Credit Card from American Express, The Plenti® Credit Card from Amex, Blue from American Express®, Platinum Card® from American Express Exclusively for Mercedes-Benz, Bluebird, Centurion® Card from American Express, Hilton Honors American Express Aspire Card, Starwood Preferred Guest® American Express Luxury Card, and American Express Cash Magnet℠ Card has been collected independently by ValuePenguin. The issuer did not provide the details, nor is it responsible for their accuracy.
Disclaimer: This content is not provided or commissioned by the credit card issuer. Opinions expressed here are author's alone, not those of the credit card issuer, and have not been reviewed, approved or otherwise endorsed by the credit card issuer. This site may be compensated through the credit card issuer Affiliate Program. 
These responses are not provided or commissioned by the bank advertiser. Responses have not been reviewed, approved or otherwise endorsed by the bank advertiser. It is not the bank advertiser's responsibility to ensure all posts and/or questions are answered.
How We Calculate Rewards: ValuePenguin calculates the value of rewards by estimating the dollar value of any points, miles or bonuses earned using the card less any associated annual fees. These estimates here are ValuePenguin's alone, not those of the card issuer, and have not been reviewed, approved or otherwise endorsed by the credit card issuer.