What Are Credit Card Balance Transfers?
Opinions, analyses, reviews, or recommendations expressed here are the author's alone, and have not been reviewed or endorsed by the issuer. We may be compensated through the issuer's Affiliate Program. For a full list of our advertisers, including American Express, see our disclosure page.
A balance transfer is the process of moving over a balance from one credit card to another. The topic sounds much simpler than it actually is, and there are a lot of fine details surrounding it. If you have outstanding credit card debt, a balance transfer can be a good way of saving money from interest charges. How much you can save depends on a number of factors, such as which card you transfer your balance to, and when you choose to transfer. We've compiled this guide to help consumers better understand everything that falls under the umbrella of balance transfers. The three areas are:
How Do Balance Transfers Work?
Balance transfers save you money by moving a credit card balance to an account with a lower interest rate – ideally 0% APR. In most cases, you will want to move over your balance to what's called a Balance Transfer Credit Card. These special types of cards are designed for taking on a balance, and providing additional time to pay them off. Most tend to have 0% APR on balance transfers for a certain period of time. The duration of the 0% interest period, and associated fees differ from card to card, which makes it worthwhile for consumers to shop around.
How much of an impact can transferring your balance have? The table below shows the estimated interest cost with minimum payments on $15,000 in debt for credit cards with various APRs. We calculate the net savings from transferring to a 0% APR credit card to be the original card's interest less the one-time 3% balance transfer fee.
| | | |
| --- | --- | --- |
| Different Credit Card APRs | 6-Month Interest Cost | Net Savings with Balance Transfer |
| 10.99% | $791 | $341 |
| 12.99% | $939 | $489 |
| 14.99% | $1,088 | $638 |
| 16.99% | $1,238 | $788 |
| 18.99% | $1,389 | $939 |
| 20.99% | $1,542 | $1,092 |
| 22.99% | $1,696 | $1,246 |
Balance transfers aren't free – on average, we see transfer fees of 3%. For this reason, you won't be seeing net savings on interest of 100% - your savings will always be offset by the balance transfer fee. As you can see in the table above, the higher your current APR, the greater your savings will be.
Before you transfer your balance, you should also have an idea of how long it will take you to pay it off. Balance transfer credit cards will offer different 0% APR periods, and you'll want to remain in this interest-free zone for as long as possible. The recent trend has been favorable to consumers who need more time. Credit card issuers are offering longer 0% APR periods than ever before - it is not uncommon to find 0% periods lasting 15 months or more.
When should you transfer a balance? Generally speaking, if you don't think you can pay down your balance completely within 3-4 months, you will generally be better off moving your balance despite the 3% fee. After those initial few months, the cost of the balance transfer will usually be less than the total amount paid in interest. If you're looking at a credit card with a 4% balance transfer fee, then you should consider transferring if you need more than 4-5 months to pay down the balance.
What is the maximum balance I can transfer? That depends on your new card's credit limit, but will always be less than it. If the card you are transferring your balance to has a credit limit of $5,000 and a balance transfer fee of 3%, you will be able to transfer at most $4,854. It's less than the stated limit because companies consider the transfer fee as part of your limit. So, for our earlier example, the balance will result in a transfer fee of $146 (3% of $4,854). If you want to easily calculate what kind of balance you can transfer for a given limit use the following calculation: 
Maximum Allowable Transfer = Credit Limit / 1.03. 
For a 4% transfer fee, divide by 1.04 instead. As you can see the pattern is to replace the hundredths place by the digit in your balance transfer fee. 
How do You Transfer a Balance?
When you get your balance transfer card, call the customer service line of the new company to begin transferring balances. Your account representative will talk you through the necessary steps for the transfer to occur. You will need the credit card number or account number where the debt is currently. Once you supply that, the balance (or whatever amount you specify) will be moved over to your new credit card.
Banks generally do not allow you to transfer a balance between their own cards. That means if you have accumulated a $4,000 balance with a Chase credit card, you will not be able to transfer it to another card from Chase. Most credit issuers make their money from interest charged to consumers. This rule exists so that consumers can't dodge paying interest by switching between different 0% APR credit cards of one financial institution.
Below are some highlights of Citibank and Chase when it comes to balance transfers. These two issuers are by far the best choice for consumers, and feature prominently on our list of best balance transfer credit cards.
Chase Balance Transfer – The Chase Slate® is the premier balance transfer credit card offered by Chase. Chase is one of the only institutions to offer 0% balance transfer fee (only to Chase Slate® cardholders), making it a worthwhile consideration.
Citi Balance Transfer – Citicards have some of the longest periods with 0% APR on balance transfers – upwards of 21 months on some cards such as the Diamond Preferred and Citi Simplicity® Card - No Late Fees Ever. Most Citicards also have a 3% balance transfer fee attached to it.
For anybody who is ready to transfer their credit card balance, below is a list of issuers and their customer service numbers.
| | |
| --- | --- |
| Issuer | Customer Service Phone Number |
| American Express | 1-800-801-6564 |
| Bank of America | 1-800-732-9194 |
| Barclaycard | 1-302-255-8990 |
| Capital One | 1-800-227-4825 |
| Chase | 1-800-935-9935 |
| Citi | 1-800-950-5114 |
| Discover | 1-800-347-2683 |
| Fidelity | 1-866-598-4971 |
| US Bank | 1-800-285-8585 |
| Wells Fargo | 1-800-642-4720 |
Things to Look Out for When Transferring a Balance
Everyone should be aware of some common rules and regulations for making a balance transfer. Knowing these can avoid headaches and save some money as well.
You have to transfer balances quickly: Most balance transfer credit cards will allow 0% APR only on balances which are transferred within a short period of time. For example, you will only receive 0% APR on balances transferred to the Citi Simplicity® Card - No Late Fees Ever within the first 4 months of opening your account – we call this the "qualification period". Just because the card advertises a 21 month 0% APR period, doesn't mean you can transfer a balance 8 months into having the card, and expect 0% APR.
Below is a sampling of some of the most popular balance transfer credit cards in the United States, along with the details you should be looking out for.
| | | | |
| --- | --- | --- | --- |
| Card | Transfer Fee | Qualification Period | 0% APR Period |
| Citi Simplicity® Card | Either $5 or 3% of the amount of each transfer, whichever is greater. | 4 Months | 21 Months |
| Chase Slate®   | $0 Intro Fee on Transfers made within 60 days of Account Opening | 60 Days | 15 Months |
| Citi® Diamond Preferred® Card | Either $5 or 3% of the amount of each transfer, whichever is greater. | 4 Months | 21 Months |
| Citi® ThankYou® Preferred Card | Either $5 or 3% of the amount of each transfer, whichever is greater. | 4 Months | 12 Months |
| Discover it | 3% | 3 Months | 14 Months |
| U.S. Bank Platinum Visa® Card | 3% | 30 Days | 15 billing cycles |
The Chase Slate® is the only card on the list to offer 0% on balance transfers. The catch this deal, however, you must complete the balance transfer within 60 days of your account opening to qualify for the 0% balance transfer offer. Transfers after the 60 days will cost you $5 or 5% fee (whichever of the two is greater), but will continue to have 0% APR for another 13 billing cycles. Since it allows users to get around the transfer fee, the Chase Slate® is one of our favorite credit cards for balance transfers.
In general, if you want to find out these facts about a credit card not listed above, look for "APR for Balance Transfers" under the Interest Rates and Interest Charges section of the Terms and Conditions. The cost for a balance transfer will often be listed under the Transaction Fees section. Simply scan the document for the term "balance transfer" to find all important pieces of information. You can see a sample document below, with the highlighted sections. 
Disclosure of Credit Card Terms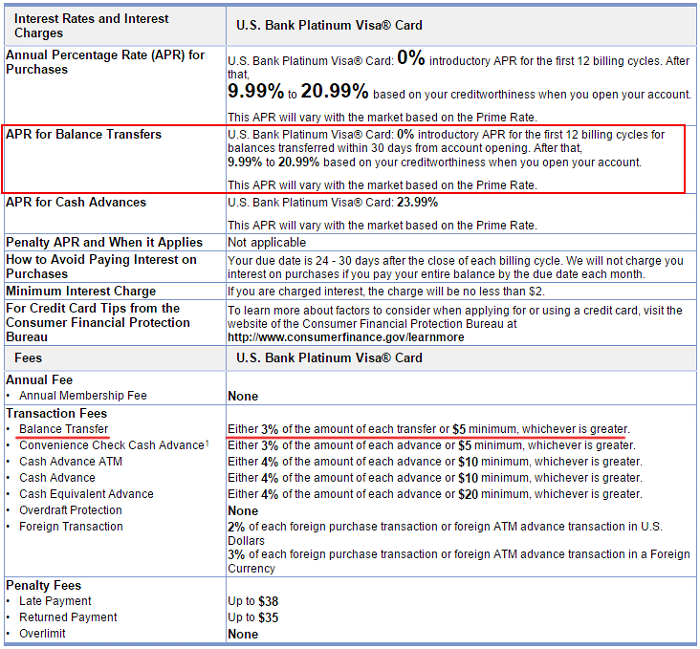 Ask about your minimum payment. Make sure you find out what your minimum payments will be before you settle on a credit card to transfer your balance to. You should not assume that a balance transfer card will calculate the minimum amount due the same way your old card did. Banks have many different ways of calculating your minimum payment that can range between 2% and 5% of your total balance.
Make sure to find out when your 0% APR period begins. Certain cards, such as those with US Bank, will begin counting the moment you activate your credit card. For instance, if you have the US Bank Visa Platinum card, you will receive 0% APR on balance transfers for the first 15 billing cycles, on transfers you make within the first 30 days of activating your card. On the other hand, the Citi Simplicity® Card - No Late Fees Ever will begin counting your 21 month period from the date of your first transfer (keeping in mind the 4 month qualification period). Therefore, if you transfer your balance 3 months into the account being active, you will have 21 months of 0% APR on that balance starting that day. These details can also be found in the same section of the Terms and Conditions we outlined in the image above. The format is standardized, therefore you should have no trouble finding once you know what to look for.
Comments and Questions
* See the online credit card application for details about terms and conditions. Reasonable efforts are made to maintain accurate information. However all credit card information is presented without warranty. When you click on the "Apply Now" button, you can review the credit card terms and conditions on the issuer's website.
Disclaimer: This content is not provided or commissioned by the credit card issuer. Opinions expressed here are author's alone, not those of the credit card issuer, and have not been reviewed, approved or otherwise endorsed by the credit card issuer. This site may be compensated through the credit card issuer Affiliate Program.
These responses are not provided or commissioned by the bank advertiser. Responses have not been reviewed, approved or otherwise endorsed by the bank advertiser. It is not the bank advertiser's responsibility to ensure all posts and/or questions are answered.
How We Calculate Rewards: ValuePenguin calculates the value of rewards by estimating the dollar value of any points, miles or bonuses earned using the card less any associated annual fees. These estimates here are ValuePenguin's alone, not those of the card issuer, and have not been reviewed, approved or otherwise endorsed by the credit card issuer.