Chase Sapphire Credit Card: A No Fee Travel Rewards Option
Opinions, analyses, reviews, or recommendations expressed here are the author's alone, and have not been reviewed or endorsed by the issuer. We may be compensated through the issuer's Affiliate Program. For a full list of our advertisers, including American Express, see our disclosure page.
This Offer is no longer available on ValuePenguin.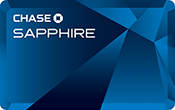 The Chase Sapphire Is No Longer Available or Offered By Chase.
The Chase Sapphire Credit Card is the no fee counterpart to one of our top rewards credit cards, the Chase Sapphire Preferred. With no annual fee, the card is structured for potential cardholders that may have more limited spending and may not be able to take advantage of the higher rewards the Preferred and other other annual fee credit cards offer.
Review: Is The Chase Sapphire Worth It?
The Chase Sapphire is one of a few non-affiliated travel rewards credit cards with no annual fee attached. What does make the Sapphire unique however is that since it participates in Chase Ultimate Rewards, the rewards earned on the card can also be used for cash back with no devaluation. Most other travel rewards cards will penalize cardholders when rewards are applied towards non travel purposes, often halving the amount they're worth.
Potential Sapphire applicants will notice that the card is primarily advertised as a 1x points on general spending and 2x points on dining. The card does also offer you the opportunity to earn double points on travel, as long as you book airfare and hotel through the Chase Ultimate Rewards website. All things considered this is a minor restriction and consumers should be able to find every available itinerary through the website that they would under other circumstances. For double the rewards, it's probably worth the hassle.
Upgrading Your Points With The Chase Sapphire Preferred
If you're an existing Chase Sapphire cardholder, or may be in the market for a card but ultimately want the premium Sapphire Preferred consider this: The Chase Sapphire, Chase Sapphire Preferred and Chase Freedom all award points towards a Chase Ultimate Rewards (UR) account. Existing UR accounts that are later approved for the Chase Sapphire Preferred, can use the Preferred's better redemption options even on their existing points balance. This makes the Sapphire a reasonable consideration for a starter card if you forecast higher spending that will warrant applying for the better card later on.
Similarly, because the Chase Freedom is a 5% rotating categories card, which will often have bonus rewards in areas not shared by the Chase Sapphire, rewards optimizers may consider having both. This will allow you to accumulate rewards in a single account to be used towards travel expenditures.
Other cards you might consider
The reasons for choosing the Chase Sapphire are really about taking advantage of Ultimate Rewards and the cash back option as a redemption backup. If you're not particularly enamored with having to use UR for your travel needs then there are some other cards you should look at.
The first card that comes to mind is the Barclaycard Arrival World MasterCard, another no fee travel card that has a more expensive premium counterpart. Like the Sapphire it has a 1x/2x rewards structure with 1 mile earned on most spending , and 2 points earned on dining and travel related expenses. The biggest upside of the Arrival is that the double miles on travel are not restricted to any specific rewards program. Instead you can earn the extra rewards on any travel related expense. The one weakness with the Barclaycard's credit card offering, is that the miles are only worth half as much when used towards cash back.
If your spending is more broadly distributed it may make sense to forgo a travel credit card altogether and stick with straight cash back option. One potential option is the Capital One Quicksilver, which offers you 1.5% cash back on all spending. Unless more than half of your spending is in the dining or through Ultimate Rewards with the Chase Sapphire, you'll actually come out ahead with the Quicksilver. 
Chase Sapphire Benefits and Features
Annual Fee
No Annual Fee
Purchase APR
15.99%
Card Details

10,000 bonus points after spending $500 in the first three months
2,500 bonus points after you add the first authorized user and make a purchase in the first 3 months from account opening
2 points for every $1 spent on restaurants
2 points for every $1 spent on airfare or hotel accomodations booked through Chase Ultimate Rewards
1 point for every $1 spent otherwise
Points never expire, and there are no limits on how many points you can earn
No caps, expiration dates, or blackout dates
24/7 direct access to customer service
No Annual Fee
Comments and Questions
* See the online credit card application for details about terms and conditions. Reasonable efforts are made to maintain accurate information. However all credit card information is presented without warranty. When you click on the "Apply Now" button, you can review the credit card terms and conditions on the issuer's website.
Disclaimer: This content is not provided or commissioned by the credit card issuer. Opinions expressed here are author's alone, not those of the credit card issuer, and have not been reviewed, approved or otherwise endorsed by the credit card issuer. This site may be compensated through the credit card issuer Affiliate Program.
These responses are not provided or commissioned by the bank advertiser. Responses have not been reviewed, approved or otherwise endorsed by the bank advertiser. It is not the bank advertiser's responsibility to ensure all posts and/or questions are answered.
How We Calculate Rewards: ValuePenguin calculates the value of rewards by estimating the dollar value of any points, miles or bonuses earned using the card less any associated annual fees. These estimates here are ValuePenguin's alone, not those of the card issuer, and have not been reviewed, approved or otherwise endorsed by the credit card issuer.