Personal Finance
I Went Into Debt for My Husband's Dream Wedding
How one woman took on nearly $10,000 in debt to pull off her special day.
While couples marrying today are increasingly putting their own imprint on their nuptials rather than following the tried and true, one trend that's fast-becoming an unwelcome tradition is the fact that more couples are taking on debt to pull off their dream wedding. One survey even found 74% of couples planning on getting married in the next 12 months plan to pay for the celebration by taking on some sort of debt, making it just as part of the nuptials as walking down the aisle, cutting the cake and taking the first dance. For the couples saddling themselves with additional debt, it's a burden that can threaten to overwhelm not just their finances, but the emotional health of the relationship that they just took to the next level. That was the case for Katie, a 30-year-old Bay Area resident who went $10,000 in debt to pay for her 2017 wedding. "It was very painful at the time," Katie said. "It was a struggle."
How wedding plans turned into a blueprint for debt
Katie and her husband, Luis, faced a major hurdle from the get-go when they began planning their wedding—they couldn't agree on the celebration's scale. "My idea was to have a small, intimate wedding that we could afford to pay upfront," Katie said. "He wanted this huge thing with 300 guests!" Even though Katie was in the process of moving from Los Angeles to the Bay Area and already grappling with student debt, she compromised with Luis on the expenses. "We had a cocktail hour outside the venue with drinks and hors d'oeuvre, an open bar during dinner and a sit-down three-course meal," Katie said. In the end, she charged close to $10,000 of the nearly $24,000 wedding to her personal credit card, while Luis promised to chip in and help pay the debt.
Katie took advantage of the fact her credit card allowed her to transfer the balance to another card offering a 0% introductory period of 15 months. The newlyweds took a risk they could pay off $10,000 in a little over a year, otherwise they would be hit with high interest payments of up to 29.99%. It's a gamble few (if any) financial advisors or wedding planners would endorse, but one Katie insisted she went into with eyes wide open. "I was OK with the debt because it was less than what he originally proposed."
Debt drags down the relationship
After the wedding, Katie immediately took charge in plotting the couple's course toward paying down the debt by reminding her husband of the monthly contributions he needed to make, which became a constant source of tension for the couple. "Sometimes he would get so worked up about it and say, 'I don't need you on my case about this! I was late this month, who cares?'" Katie said. But a compromise was made: "He's into buying the newest video games, which he couldn't do anymore, and he didn't participate in his fantasy football league."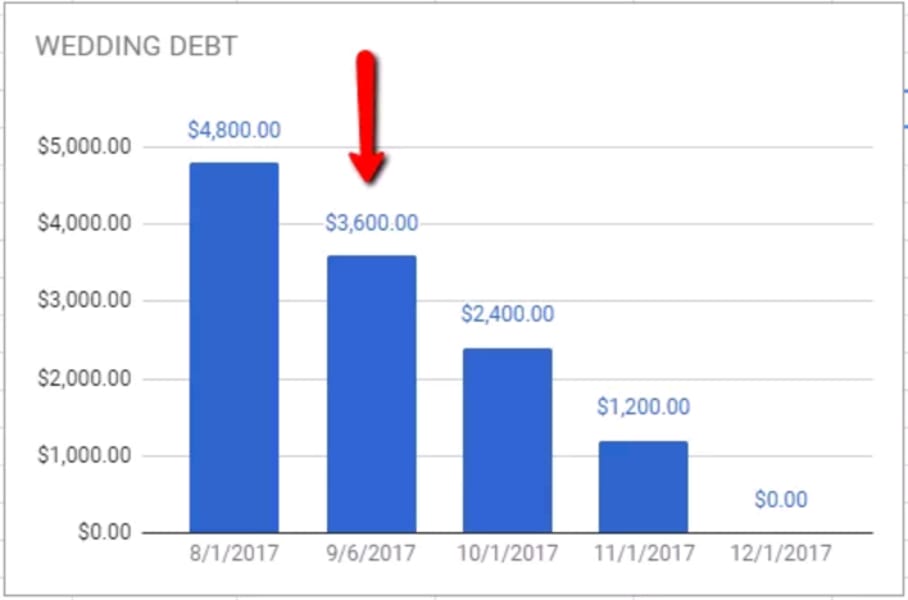 The wedding debt also forced the couple to cut back on more than just Xbox games and DraftKings. They scrapped their initial plans to spend their honeymoon sunning by the blue waters of Fiji or Bora Bora and instead settled for the less expensive (but much closer) gray skies of Seattle and Portland, Oregon. Katie even had to spend the first few months of her marriage living apart from her husband in order to make ends meet. "We didn't live together before we got married, so we ended up delaying that because our budget was so tight," she said. Thanks to Katie's diligent planning and fiscal discipline, the couple paid down the debt in nine months. The experience even inspired her to run a blog dispensing advice to people getting ready for their own big day. But Luis had to assume personal credit card debt of his own in order to travel to his grandmother's funeral, an example of how living with debt makes any unplanned expense that much more painful.
Wedding debt is the guest you don't have to invite
Ending up in debt over your wedding is a pricey mistake, but an understandable one, especially if you aren't an expert at navigating the nuances of booking a venue, arranging for caterers and the myriad of other details that make the event special (and expensive). A recent ValuePenguin study found the costs associated with renting a reception venue outstrip any other expense, including the engagement ring, meaning sometimes it pays to have a pro on your side. "It's hard to understand how much things cost" said Leah Weinberg, a wedding planner and founder of Color Pop Events. "Unless a couple is doing their research by reaching out to different venues and vendors before committing to anything, I think by nature it's going to be challenging for them to realistically plan on how expensive things are."
Another challenge for couples hoping to avoid a budget-busting wedding are runaway emotions causing people to make financially costly decisions they may wind up regretting later. "What happens frequently is as you get closer to the wedding, people's pocketbooks tend to open up," Weinberg said. She suggests planning a budget early and sticking to it, so you won't be tempted to upgrade the open bar to top-shelf liquor or hire Gandalf to officiate the wedding. Every couple will have unique expectations and means, but here are some other tips from Weinberg on how to keep costs under control:
Find an all-in-one venue"If you have a smaller budget, you should go with a venue where everything is in-house, so the per-person cost is less," Weinberg said. That maybe means passing on having the reception at your future father-in-law's beautiful barn in Vermont, given the increased cost of hiring separate caterers and equipment to travel to the venue.
Easy does-it with the flowers "When couples are trying to budget on their own, floral is where they underestimate the most," Weinberg says. "If you're having a 200-person wedding, just to have a centerpiece of 20 tables will be expensive." A frugal couple might either cut down on the amount of flowers featured at the ceremony, or pass on big-budget flowers such as orchids in favor of the more modestly priced rose.
Use common sense "Even if my clients have money to spend, I still try to keep them realistic," Weinberg said. "I had one couple where the bride wanted to hire a barista to serve espresso drinks during dessert." Given the extravagant fees it would cost to bring in a barista, Weinberg suggested the couple put that money toward floral or one of the event's more important parts. Again, make sure you stick to your budget and don't throw away money on extras that won't even show up in the photos.