Advertiser Disclosure
Advertiser Disclosure: Some of the card offers that appear on this website are from companies which ValuePenguin receives compensation. This compensation may impact how and where products appear on this site (including, for example, the order in which they appear). The site does not review or include all companies or all available products.
Disclaimer: The editorial content on this page is not provided by any of the companies mentioned, and has not been reviewed, approved or otherwise endorsed by any of these entities. Opinions expressed here are author's alone. For a full list of our advertisers, see our disclosure page.
Discover Card Sales Volume Slows in 3Q 2016
Discover Financial (NYSE:DFS) announced it made $30.6B in card sales in the third quarter this year. This represents a 1.02% growth year-over-year -- a rate that has been slowing significantly since 2011. In an investor conference call, Discover made it clear that the company is not willing to be as aggressive as some of their competitors in pursuing new accounts that drive sales. Net discount and interchange revenue was down 9%, and was primarily due to increased rewards rate. Due to new marketing promotions, the rewards rate on Discover cards was up 13 basis points since this time last year.
The credit card company spent roughly $368M on rewards, which was a 13% increase year-over-year. Despite the increasing rewards cost, Discover is not attracting transactors, which are traditionally the drivers for sales and interchange revenue. Transactors are cardholders who use their credit card and pay it off in full every month, without paying interest. Revolvers, on the other hand, are consumers who carry a balance and therefore contribute to an issuer's interest revenue. Discover's CEO, David Nelm, told investors that "[Discover remains] more disciplined than certain competitors in rewards spend, and as a result [the company has] sacrificed some transactor sales volume." Discover acknowledged that this increase of revolvers in their mix has been a part of their growing net interest margins. However, this is not a strategy the company will pursue indefinitely. R. Mark Graf, Discover's CFO, added that "we don't want to attrite those transactors forever."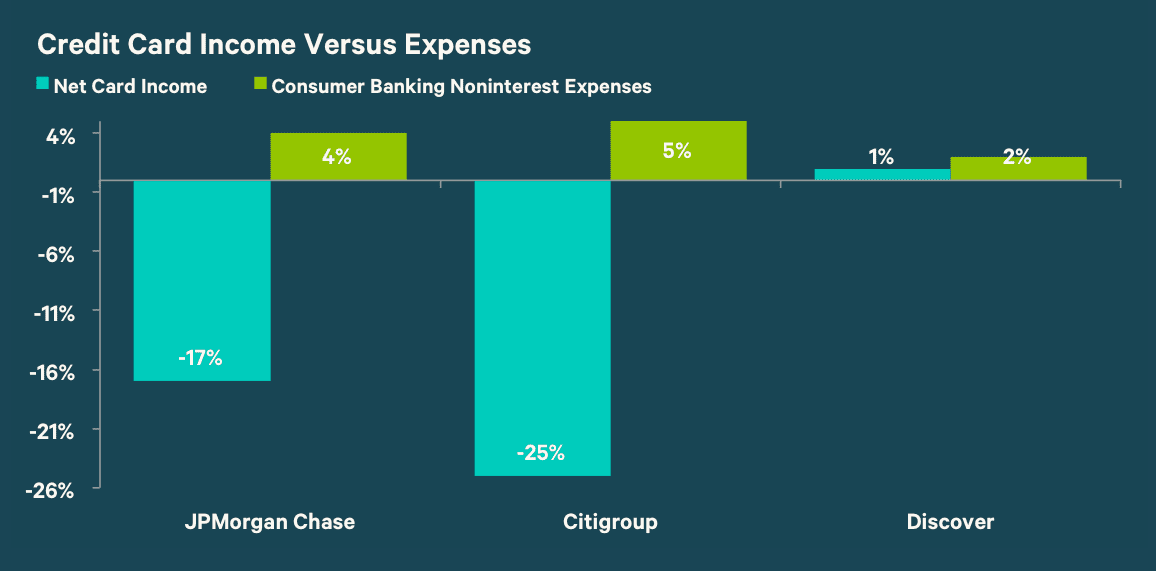 One of Discover's competitors in the credit card space, JPMorgan Chase (NYSE:JPM), reported strong growth in new accounts this quarter. It brought in over 2.7 million new card accounts. A large part of this has been due to the viral success of the bank's new product, which drove thousands of applications when it first launched. Some analysts have been skeptical about the product's profitability, due to the high rewards cost associated with it. While the new card is seen as extremely profitable for consumers, especially in the short-term, it remains to be seen whether the new customers will keep or cancel the card. If the card fails to convert users into long-term customers, the success of the marketing tactic will be called into question.
Discover's management share these sentiments.When asked about the Barclaycard Arrival Plus® World Elite Mastercard®, Nelms commented that "there are certain offers out there that we scratch our heads", adding "I'm not sure it's necessarily even the target market that may be responding to some of these offers." Nelms asserts that these lucrative offers are not sustainable and will eventually have to be devalued.
For now, it appears that Discover has no real desire to compete with banks like Chase and American Express in the high-end rewards space. This doesn't mean Discover isn't aiming to be competitive to some degree. As mentioned, their rewards costs have increased, primarily due to a promotion where the company doubles the cash back at the end of the first year for new cardmembers. Discover says it's pleased with economics of its rewards structure, as that it's driving new accounts at a relatively low cost – especially low when compared to issuers like Chase.
Discover is currently the sixth largest credit card issuer in the United States when measured by total outstanding loans. It trails issuers like American Express (NYSE:AXP) and Capital One (NYSE:COF). Along with Amex, it's one of the only closed loop card companies in the United States – it serves as both the network for its cards and issues the loans.
Comments and Questions