Merrimack College Economics - Nick Santosuosso
In this week's feature piece, we go to Merrimack College in North Andover, MA. There, we spoke with Nick Santosuosso, a sophomore Economics and Political Science major who's also minoring in Mathematics. Nick talked to us about how he first became interested in Economics and and what his plans are for the future. Check out the interview below:
What influenced you to pursue a career in Economics?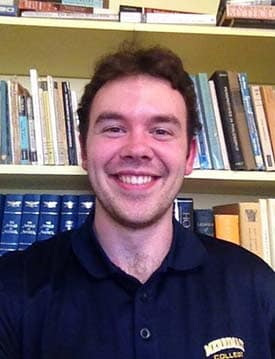 In high school I was always most successful in the social sciences, particularly history and government, and what interested me the most was always the explanations behind changes in the socioeconomic environment.  During my first visit to Merrimack College I found Thomas Sowell's Basic Economics heavily discounted in the school bookstore.  Being exposed to Sowell's perspective got me thinking like an economist, and the more authors I read the greater appreciation I had for public policy and ideological perspectives.  I decided to declare Economics as a major after I discovered how powerful a tool it was for understanding historic events and explaining changes in human standards of living.
Why should other students consider a focus in Economics?
Economics is an eye opening discipline in that it offers explanations into how the world works and how human interaction serves to benefit or harm society as a whole.  It gives insight into government policy, history, financial markets and the job market.  Understanding economics is a crucial tool for the average citizen who wishes simply to evaluate the work of politicians and make informed voting decisions.
What has been your experience with the Economics program at your school?
Merrimack's Economics program offers a wide breadth of ideas and challenges students to consider conflicting theories of economics:  our professors represent just about every ideology from across the spectrum.  I am also a tutor for the department and I have had the opportunity to spend a great deal of time getting to know each of our professors.
Have you participated in any internships, and if so, how many and how were they?
I was a legislative intern in the Massachusetts Senate during the summer before my freshman year of college, workinig on policy research, constituent services and administrative tasks.
Please share an interesting or little-known fact you've learned about the world of economics…
On January 1, 1791, the US National Debt was $75 million. It increased by that amount every hour in 2011.
What are your future aspirations and career plans?
I hope to work my way into graduate school and pursue a PhD in Economics.  From there, I would like to work either as a professor, public policy researcher or private business analyst.
Comments and Questions