Baylor University Statistical Science - Forrest Williamson
In this week's Future of Statistics feature, we take a look at top-ranked statistics program, Baylor University, and talk with one of its students, Forrest Williamson. Forrest is a PhD student studying Statistical Science and is expected to graduate in 2014. Prior to pursuing his PhD, Forrest obtained his masters in Statistical Science from Baylor in 2011 and his bachelors from the University of North Texas in 2009.
What influenced you to pursue being an statistician?
As an undergraduate I studied mathematics, choosing to do a depth in probability and statistics. I enjoyed the application of mathematics that involved data, immediately seeing the potential it had in industry. I really enjoyed the introductory statistics courses I took as a math major, but noticed that most of the other students did not enjoy applied stats as much as the more theoretical courses. There was something different about statistics, and that intrigue encouraged me to take more stat courses and try to discover what it was about statistics that made it different from pure mathematics.
Why should other students consider a focus in Statistics?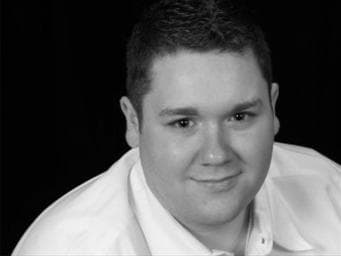 Statistics is a perfect outlet for people who enjoy many different subjects, as I do. If you have an analytic mind, you can apply it towards solving problems that deal with data. In this technology age, data is being collected everywhere! From pharmaceuticals, to engineering, to finance and even the humanities, there is a need for professionals who can understand data, and more importantly, who can help others understand their own data. The field is very influential; statistics guides important decisions which are made by professionals and researchers every day. The opportunities in statistics are immense; you can work almost anywhere, for virtually every type of company. You get to collaborate with professionals in other fields, as well as work with colleagues in your own discipline. For a student who enjoys teaching and explaining concepts, statistics offers many opportunities to teach others about their own data, and help guide interpretation of the data.
What has been your experience with Statistics at Baylor?
I have had an amazing experience as a "statistician-in-training" at Baylor! I have been able to deepen my mathematical foundation and expand my abilities to incorporate programming into my capabilities. Even as a student, I have had opportunities to work with many people in other disciplines and even to travel. I have done consulting work and research in the following areas: archaeology and forensic science, health care, geology, economics, pharmaceuticals, religion, sociology, psychology, business, and certainly others I am forgetting at the moment. For conferences and other professional meetings, I have traveled to Pennsylvania, Tennessee, North Carolina, Washington, Montréal (Canada) and Havana (Cuba), not to mention going all over the great state of Texas for local events. I have taught an introductory statistics course, mostly to nursing and business undergraduates, which was not only fun but good for personal growth as a statistician. When I meet other graduate students and say I study statistics, there is often times an immediate interest for collaboration. I have worked with deans, department chairs, professors, post-docs, fellow graduate students (Masters and Doctoral), undergraduates, medical doctors, and more. My skills have been useful to such a large variety of people in very different fields. It's exciting to think to the future, after I graduate, imagining how many more disciplines I will get to work in. Not only has the interdisciplinary work been exceptional, but the professors and fellow students in my program are some of the greatest people I have ever known. It's inspiring to see how such intelligent, driven people use their abilities to help further our field and encourage statistical integrity within all disciplines.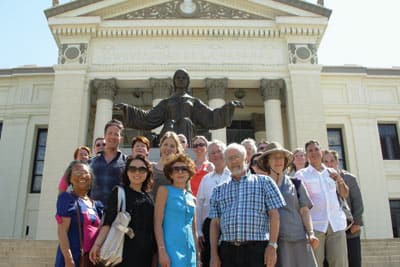 Have you participated in any internships, and if so, how many and how were they?
I have had the opportunity to participate in two internships, along with other special experiences. First of all, although not a job related internship, I participated in a National Heart Lung and Blood Institute (NHLBI)-funded undergraduate program the summer before starting grad school at Baylor. The Summer Institute for Training in Biostatistics (SIBS) program is held at select universities across the United States. I participated in the SIBS program hosted by North Carolina State University and the Duke Clinical Research Institute (DCRI) summer 2010. The program is lead by Dr. Marie Davidian, who also happens to be the 2013 President of the American Statistical Association, the largest professional organization of statisticians in the world, and second oldest professional society in the United States. The program allowed undergraduates and soon-to-be graduate students to explore the world of biostatistics. We were exposed to a series of world-class speakers who gave insight into what it means to be a biostatistician, and took field trips to Glaxo-Smith-Klein (pharma company), SAS Institute (software company), DCRI (largest Academic Research Organization, or ARO, in the US), and Duke Medical Center. We learned about the role statistics plays in the world of health care, medicine, clinical trials, academia, etc.
My second summer of graduate school, summer of 2012, I was a Biostatistician Intern at Axio Research, LLC in Seattle, WA. Axio research is a Contract Research Organization (CRO) who specializes in providing analysis required for Data Monitoring Committees (DMC's). DMC's are a panel of experts, usual medical doctors and a statistician or two, who are charged with the responsibility of monitoring clinical trials as they are ongoing. The personnel are not affiliated with the drug sponsor (pharma company), and theoretically are less biased than the sponsor to decide if a trial should continue based on interim performance. I worked on programming statistical reports and in quality control for the reports generated for these meetings. It was great exposure to the world of data management and regulatory guidance.
Earlier this summer, May 2013, I was privileged to join a group of statisticians representing the American Statistical Association on a 1-week delegation to Havana, Cuba with the goal of creating collaborations between US and Cuban statisticians. The leader of the delegation was ASA President Marie Davidian, who was my SIBS leader 3 years ago at NC State. An article about the delegation was published in the most recent issue of AMSTAT News. 
Currently, I am interning with the Baylor Health Care System in the Health Care Research Department. BHCS is a medical system in north Texas, with many hospital and surgery centers. I have been working on survey research with physicians and administrative personnel. It is different than what I have done before because I work primarily with non-experimental data. It is interesting to see how much of a difference we can make as statisticians. Our reports end up in all tiers, so they can be as simple as looking at how to make a small department more efficient, or they can go all they way up to the executive board when working on big issues such as employee and patient satisfaction, national ranking, growth and development, etc. There is an enormous amount of research being done in health care, it is vitally important to have trained professionals such as statisticians analyzing the data being collected. An incorrect analysis can encourage unnecessary change in the current system, or could overlook factors that crucially impact patient care and system efficacy.
Please share an interesting or little-known fact you've learned about the world of statisticians...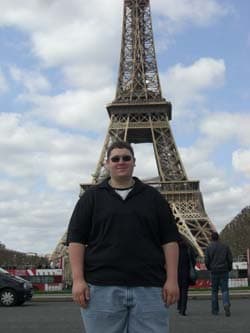 The need for statisticians is everywhere, but employers don't realize that the need exists. Statistics is slowly emerging as a field on its own, detaching itself from mathematics. Some may not agree with me, but although statistics relies heavily on mathematics we are not the same discipline. Physics also relies heavily on mathematics, but physics is not confused as a field of mathematics, nor should statistics be confused as a type of math. I see job postings looking for data analysts, mathematicians, programmers, data managers, consultants, researchers, study design analysts, bioinformaticians; just about anything that can describe a statistician without calling it by name. If employers can broaden their understanding of what statistics is and what a statistician can do, there would be no place a statistician couldn't work. We are such a diverse discipline and have so much to offer, but we are still fighting for our proper place.
What are the latest developments or trends in Statistics?
Big data is a heavy trend in statistics. We are collecting such large amounts of data, traditional methods of collecting, storing and analyzing this data is not efficient. Journals, conferences, workshops, etc. have been popping up lately, many of which are dedicated to this idea of big data. For someone who is planning on entering a statistics program, this is a mega research area. If an individual can become an expert on how to manage this type of data the career opportunities will be endless!
What are your future aspirations and career plans?
I am keeping my options as available as I can. I enjoy so many things, picking one path right now seems like I will be limiting my experience. Professionally, I am looking into academic positions as well as industry and government. Personally, I hope to be a meaningful contributor to the field of statistics. I hope to further the attention the field currently receives, so that statistics truly develops its own identity. Because we work in so many areas, statisticians often get thrown in with other groups. I hope that our field continues to grow and receive the recognition it deserves, and I believe that we have to start with education. We need to let students know that statistics is a degree option, and it has a solid career path. For those who do not choose to study statistics, we have just as great of a responsibility to reach out and let them know what statistics is. That way, when these students grow in to professionals they will know who to turn to when they need help in anything data related.
Comments and Questions